Building a Crime-Free Manipur: Key Steps for Sustainable Peace and Harmony
Crime-free Manipur, sustainable peace, social harmony, law enforcement, community engagement, education, economic development, conflict resolution, public awareness
Introduction:
Creating a crime-free Manipur is essential for ensuring the safety and well-being of its diverse communities. The recent incidents of violence in the state highlight the urgent need for comprehensive measures to address the root causes of unrest and promote social harmony. By adopting a multi-pronged approach that encompasses law enforcement, community engagement, education, economic development, and conflict resolution, Manipur can pave the way for lasting peace and prosperity.
1. Strengthening Law Enforcement:
Enhancing the capabilities of law enforcement agencies is crucial to maintaining peace and order in Manipur. This includes providing better training, modern equipment, and improved intelligence gathering to effectively address security challenges. Establishing specialized units to tackle specific types of crime, such as cybercrime and human trafficking, can further bolster law enforcement efforts.
2. Fostering Community Engagement:
Empowering communities to actively participate in crime prevention is vital. Forming neighborhood watch groups and community policing initiatives can strengthen the bond between citizens and law enforcement, leading to more effective crime reporting and resolution. Engaging local leaders and influencers in promoting peace and unity can help reduce tensions and prevent conflicts.
3. Promoting Education and Awareness: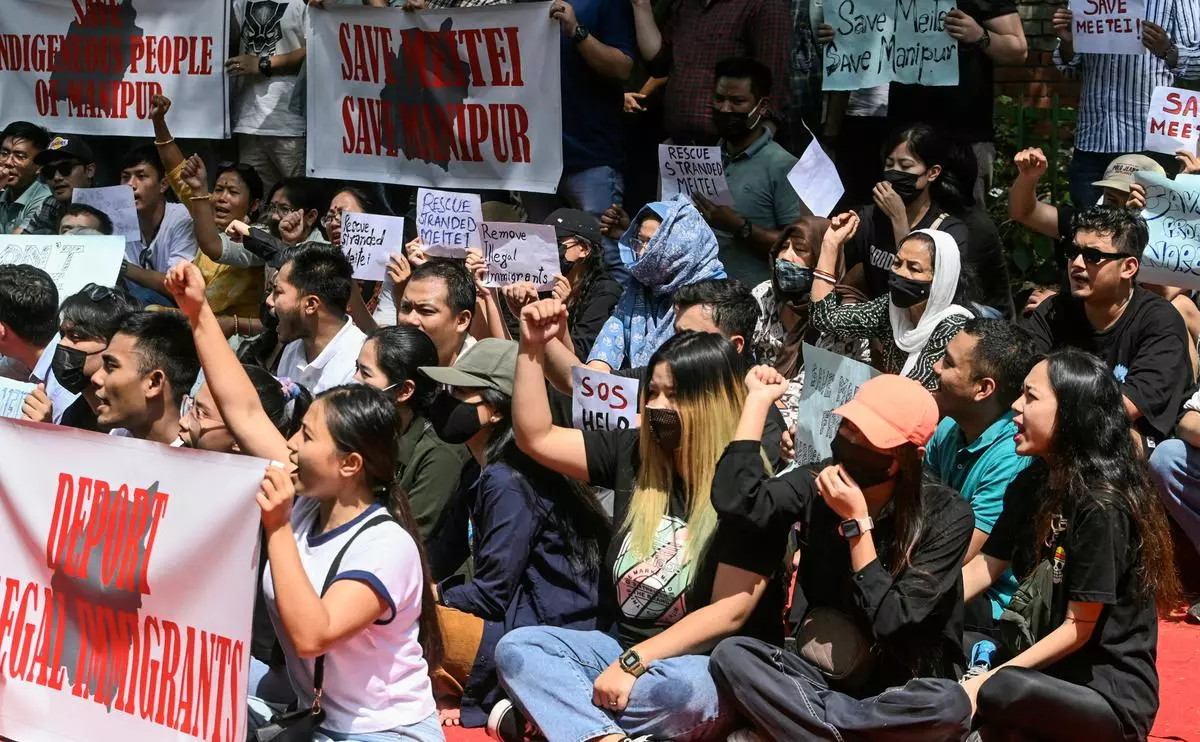 Investing in education is a powerful tool for preventing crime in Manipur. Ensuring access to quality education for all, including marginalized communities, can empower individuals and deter them from engaging in criminal activities. Educational programs focused on conflict resolution, tolerance, and understanding cultural diversity can foster a sense of unity and social cohesion.
4. Facilitating Economic Development:
Addressing socio-economic disparities is essential for reducing crime rates in Manipur. Implementing sustainable economic development programs, including job creation and skill training initiatives, can provide alternative livelihood options for vulnerable populations, minimizing the allure of criminal activities.
5. Prioritizing Conflict Resolution:
Addressing historical grievances and conflicts between different communities is crucial for long-term peace in Manipur. Facilitating dialogue and reconciliation among different ethnic groups can help build trust and promote understanding. The government should actively support initiatives that seek to resolve conflicts peacefully and address grievances.
6. Empowering Local Governance:
Strengthening local governance structures can facilitate community-led solutions to address crime and social issues. Empowering local authorities to make decisions and implement programs tailored to the specific needs of their communities can lead to more effective crime prevention strategies.
7. Raising Public Awareness:
Creating awareness about the importance of peace and harmony is essential. Public campaigns, media outreach, and educational programs should focus on promoting a culture of non-violence, respect for diversity, and conflict resolution. Spreading positive stories of cooperation and unity can inspire collective action for a crime-free Manipur.
Conclusion:
Building a crime-free Manipur requires concerted efforts from the government, law enforcement agencies, communities, educational institutions, and civil society. By adopting a holistic approach that combines law enforcement, community engagement, education, economic development, and conflict resolution, Manipur can create a harmonious and peaceful environment for all its residents. Together, we can work towards a future where crime is a thing of the past, and the people of Manipur can thrive in a safe and secure society.
Ensuring a Crime-Free India: Strategies for Sustainable Security and Social Progress
Crime-free India, sustainable security, social progress, crime prevention, law enforcement, community engagement, education, economic opportunities, judicial reforms, technology, public awareness
Introduction:
Creating a crime-free India is an ambitious but essential goal for ensuring the safety and well-being of its citizens. To achieve this, a comprehensive and multi-faceted approach is required, addressing root causes, strengthening law enforcement, promoting social progress, and fostering community engagement. By combining innovative strategies and collective efforts, we can pave the way for a safer and more prosperous nation.
1. Strengthening Law Enforcement:
Effective law enforcement is the backbone of crime prevention. Investing in training, equipping, and modernizing police forces is crucial. Enhanced use of technology, such as surveillance systems and digital crime tracking, can improve responsiveness and deter potential offenders. Collaborating with international agencies for intelligence-sharing can help tackle cross-border crimes.
2. Community Engagement and Empowerment:
Fostering community engagement is essential in preventing crime at the grassroots level. Encouraging citizens to actively participate in crime prevention programs, neighborhood watch initiatives, and reporting suspicious activities can create a sense of ownership and responsibility for community safety. Engaging youth through education and extracurricular activities can deter them from engaging in criminal behavior.
3. Quality Education and Skill Development:
Education plays a vital role in reducing crime rates. Investing in quality education and skill development programs can empower individuals to seek lawful and gainful employment, reducing the temptation to resort to criminal activities. Vocational training and job opportunities can lead to economic upliftment and societal progress.
4. Economic Opportunities for All:
Reducing socio-economic disparities is crucial for crime prevention. Promoting inclusive economic growth and addressing unemployment can curb the desperation that often leads to criminal behavior. Entrepreneurship programs and micro-financing initiatives can empower individuals to become self-reliant and productive members of society.
5. Judicial Reforms:
An efficient and fair judicial system is necessary to ensure timely justice and act as a deterrent to potential offenders. Judicial reforms, such as fast-tracking cases and reducing the backlog of pending cases, can restore public confidence in the legal system. Implementing restorative justice practices can also aid in rehabilitating offenders and preventing recidivism.
6. Leveraging Technology for Crime Prevention:
Advancements in technology offer innovative solutions for crime prevention. Utilizing artificial intelligence, data analytics, and predictive policing can help law enforcement agencies identify crime hotspots and allocate resources more effectively. Cybersecurity measures are essential to combat the rising trend of cybercrimes.
7. Public Awareness and Education:
Raising public awareness about the consequences of crime and the importance of reporting criminal activities is critical. Launching campaigns against gender-based violence, human trafficking, and drug abuse can help in curbing such crimes. Media and social media platforms can be utilized to disseminate crime prevention messages effectively.
Conclusion:
Creating a crime-free India requires a concerted effort from all stakeholders, including the government, law enforcement agencies, communities, educational institutions, and citizens. By addressing the root causes of crime, strengthening law enforcement, promoting social progress, and leveraging technology, we can move closer to the vision of a safer and prosperous India for all its inhabitants. Together, we can build a society where everyone can thrive without fear of crime.